The Week of Prayer for Christian Unity is an international initiative where Christians worldwide are reminded of Jesus' prayer for his disciples that "they may be one so that the world may believe" (John 17:21). Locally, UniteBoston coordinates evening collaborative gatherings of fellowship, prayer and worship from January 18-25 annually. In 2017, we coordinated nightly liturgically-oriented prayer and worship gatherings and a large worship service on January 21st in alignment with the 500th Anniversary of the Reformation, that had over 8 co-sponsors and was attended by over 800 people.
Click here to download the schedule of events.
In 2021, the theme is "Abide in my love, and you shall bear much fruit" (John 15:5-8) which was chosen by the Grandchamp community in Switzerland. Today the community has fifty sisters, all women from different generations, church traditions, countries and continents. In their diversity the sisters are a living parable of communion.
While shocking violence and division are rocking our nation right now, this is not the end of the story. The Church has an opportunity to stand up for righteousness, justice, and truth that are at the heart of who Jesus is and why He came. Part of abiding in Christ is cutting off things that draw our hearts and actions away from God, that we might bear more fruit individually and collectively. You can read a powerful commentary on this text written by Dr. Andrew DeCort here.
We encourage you not to allow the pandemic to be a barrier to interacting with those of different denominations, races and cultures. Let's make the most of these virtual opportunities in order to truly be the family of God and serve as the body of Christ in the world: one vine, with many branches.
---
Join in!
Mark Your Calendars – You are invited to mark your calendars and plan to attend the evening gatherings! Even though the pandemic continues to prevent us from gathering physically for this important annual time of prayer, we can still gather virtually. We encourage you to take part in the evening gatherings to learn from the various expressions of Christian worship and prayer present within the body of Christ in Boston. People who attend from night to night will experience the Church in Boston in her diverse array of ethnicities, traditions, and geography.
Spread the Word – We also appreciate help spreading the word to people in your congregation, family, friends, and neighbors. A personal invitation goes a long way.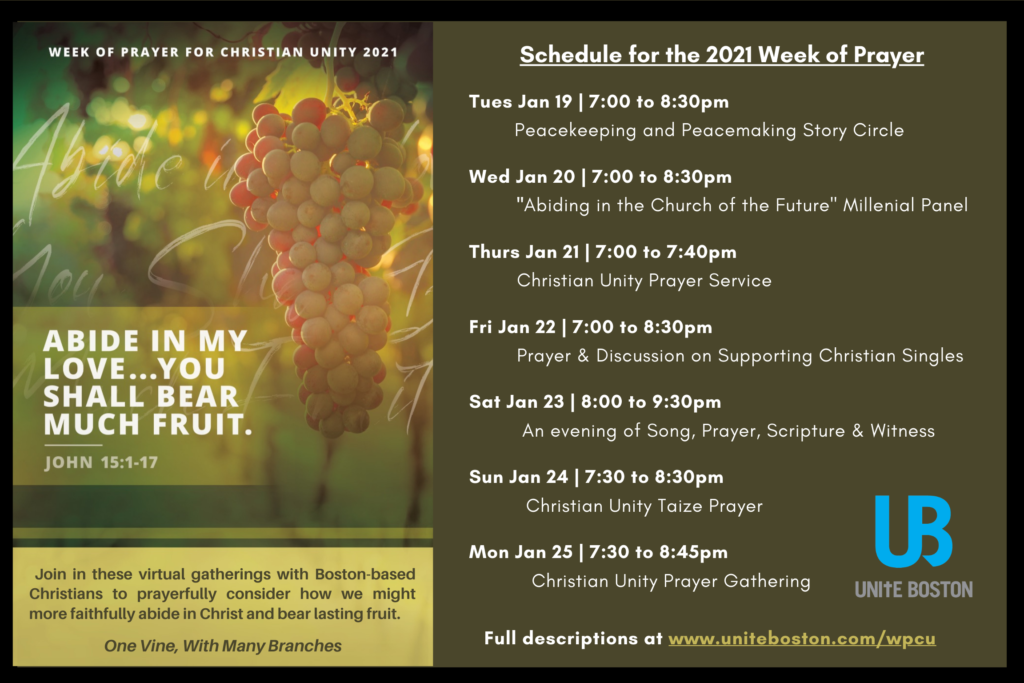 Schedule
Monday January 18 – Rev. Dr. Martin Luther King Day
We encourage you to take part in various events happening around the city to celebrate the impact and legacy of Rev. Dr. Martin Luther King, Jr. We also encourage you to pray this prayer of lament for racial injustice with those in your household and/or church community.
St. Kathrine Drexel 36th Annual MLK Breakfast | Mon Jan 18th at 10am
Saint Katharine Drexel Parish's 36th Dr. Rev Martin Luther King Birthday Commemoration featuring Keynote speaker Rev. June Cooper, Executive Director of City Mission Boston. Registration is required.
MLK Memorial Breakfast | Mon Jan 18th from 11am to 3pm
Join St. Cyprian's Episcopal Church and Union United Methodist Church for the 51st annual MLK Memorial Breakfast, entitled "The Arc Toward Justice: Unfinished Business." This is a virtual conference, concert and celebration that includes teach-ins, a virtual protest rally, direct action, education, and sustainable resistance. This is a free event but registration is required: bostonmlkbreakfast.org
MLK Service Project: Blessing Bags | Mon Jan 18 at 11am
Join Courageous Conversations to create Blessing Bags, filled with travel-sized necessities, will be assembled and distributed to unhoused people. (You may donate items such as soap, shampoo, socks, and other individually packaged items that can be easily carried in ziploc bags.) Drop off items by Monday at 11am. More info.
MLK Day Rally for Equity in Education | Mon Jan 18 at 12pm
Join St Stephen's Youth Programs for a march for education to advocate for high-quality education for high needs students. Meet at the Blackstone School, 380 Shawmut Ave in the South End at 12pm. Flyer here.
"We Can No Longer Look Away" March | Mon Jan 18 at 3pm
Join in this Martin Luther King Jr Day rally and march organized by Violence in Boston, the Charles Hamilton Houston for Race & Justice, and Black Lives Matter Boston. The rally will begin at Madison Park High School in Roxbury at 3:00pm and then march to the state house. More info here.
Voices on King | Mon Jan 18 at 5pm
King Boston will virtually celebrate putting the shovel to the ground for the Embrace Memorial, through a community Dedication Ceremony. "The Embrace" will be located on the historic Boston Common, and will honor both Rev. Dr. Martin Luther King, Jr. and Coretta Scott King. Additionally, the memorial will recognize Boston civil rights leaders and our city's unique contribution to social justice. This MLK Day, we will reflect upon the bold and enduring vision of justice, equity, and equality that the Kings' began to share with the world beginning in their formative years in Boston in the 1950s, and lift up their legacy of resilience. We will celebrate our city's commitment to realizinga racially equitable and economically just 'Beloved Community.'
Join the ceremony online at: https://www.tbf.org
---
Tuesday January 19 | 7:00 to 8:30 | Peacekeeping and Peacemaking Story Circle
Actively working toward peaceful relationships is called peacemaking. A seemingly similar but ultimately harmful practice–which we will call peacekeeping–seeks only stability for the short term by sweeping conflict under the rug. Participants will be invited to respond to the question, "What is a time when you have worked toward making peace in your life?" It will also be a space to pray and be encouraged by others' examples to think of how we can work for peace in our relationships in the upcoming year. RSVP by emailing Morgan Crago, mcrago@bu.edu. Invite friends through Facebook. Zoom link here.
---
Wednesday January 20 | 7:00 to 8:30pm | Abiding in the Church of the Future: Boston-Based Millenials and Gen Z Christians on Taking the Church Forward
The future of the Christian church lies in the next generations taking it forward. On this evening, we will hear from four Millennial / Generation Z Christian leaders about the future of the church. Featured panelists include: Kerrian Johnson, Jacob Urena, Danielle McConnell, and Caleb McCoy. We will also spend time in small groups to discuss implications for our own congregations and pray. Invite friends via Facebook. Zoom link here.
---
Thursday January 21 | 7:00 to 7:40pm | Christian Unity Prayer Service
Join for a liturgical prayer service using the prayer template that is being used worldwide. The service will include a diverse representation of local clergy, including Rev. Amy McCreath from the Episcopal Diocese of Massachusetts, Father Tom Ryan from the Paulist Center, Father Demitrios Tonias from the Greek Orthodox Cathedral, and Rev. Kelly Fassett from the American Baptist Churches of Massachusetts. This prayer service incorporates a time of remembering our intimate relationship with God, as well as seeking unity and reconciliation with others. Live on Youtube at the Paulist Center. Invite friends through Facebook. Broadcast Online Here.
---
Friday January 22 | 7:00 to 8:30pm | Prayer & Discussion on Supporting Christian Singles
Hear from Boston Christian singles from different churches on ways the church has served this part of the Christian community well, and new effective ways the church can serve Christian singles in these changing times. Coordinated by Rebekah Kerstetter, member of Highrock Church and founder of the Christian ministry Social Singles. RSVP by emailing Rebekah at singlesocialsboston@gmail.com. Invite friends through Facebook! Zoom link here.
---
Saturday January 23 | 8:00 to 9:30pm | An evening of Song, Prayer, Scripture and Witness.
Join other Christians from around North America on Zoom for this Week of Prayer for Christian Unity service, streamed from St. Dorothy's Church, an historic African-American parish in Chicago. Coordinated with partners from The Initiative, Focalare, University Bible Fellowship and the Archdiocese of Chicago. Zoom link here.
---
Sunday January 24 | 7:30pm to 8:30pm | Christian Unity Taize Prayer
Song & Stillness, Taizé at MIT, is a contemplative practice of simple, quiet, evening prayer, with an international message of Christian reconciliation and unity. Using the music of the Taizé community in France, our service includes readings from Christian scripture, candlelight, meditative singing, and time for silence. Service leaflet & Zoom Link available here. Join via Facebook Live.
---
Monday January 25 | 7:30pm to 8:45pm | Christian Unity Prayer Gathering
In these divided and turbulent times, the need to pray for Christian unity is more apparent than ever. Join believers from around Boston for a time of prayer on Monday, January 25th, 7:30pm-8:45pm. This zoom prayer service will be led by local Boston area pastors. Invite friends through Facebook. Zoom Link here.
---
Lord, you are the vinedresser who cares for us with love. You call on us to see the beauty of each branch united to the vine, the beauty of each person. And yet, too often the differences in others make us afraid. We withdraw into ourselves. Our trust in you is forsaken. Enmity develops between us. Come and direct our hearts toward you once again. Grant us to live from your forgiveness, so that we may be together and praise your name. "Pray and work that God may reign.Throughout your day, let the Word of God breathe life into work and rest.Maintain inner silence in all things so as to dwell in Christ.Be filled with the spirit of the Beatitudes: joy, simplicity, mercy."
-Mantra for the 2021 Week of Prayer for Christian Unity. This is recited daily by the Sisters of the Grandchamp Community.
---
Photos from Previous Years