This week, we feature a prayer guide for the city of Boston during the COVID-19 pandemic put together by Anne Freeman, based off of the "Empty Streets, Full Hearts" video. Anne is a member of River of Life Church in Jamaica Plain, and works in Boston as a freelance American Sign Language Interpreter. She also serves in Deaf ministry through New England Deaf & Hard of Hearing Ministry, under the umbrella of The American Baptist Churches of Massachusetts. There are also prophecies at the bottom of this post from UniteBoston's Prophetic Council. This is a great resource to pray for the city either personally, or with your family, in a small group, or congregation.
---
Please pray for the following segments of Boston society as we ride out the COVID 19 pandemic.
1. People sick with COVID 19: Jehovah Raphe (God our healer), we speak hope, health (mental & physical) and healing strength over the people who have tested positive for COVID 19 in the city of Boston. We ask that you help them discern when to return to normal activity after their 14 days of quarantine. We especially pray for Chelsea, the hardest hit city with COVID 19 in the entire state of Massachusetts.
2. First responders: Jehovah Sabaoth (Lord of hosts), we lift up the Boston Police, Fire Fighters, EMTs & The National Guard to you, declaring your protection, safety & perseverance over these people who serve our city on the front lines. We especially lift up their morale to you for protection.
3. Medical facilities: Jehovah Shalom (the God of Peace), we lift up the 20 hospitals in the city of Boston, all staff, administrators, researchers, and their financial resources. We pray for their psychological and emotional strength, tenacity, protection and safety, and their ability to cooperate well with each other under the strain of the demands being made on them during this pandemic.
4. Those in Power: El Shaddai (the God of Power), we lift the Boston city government, Mayor Marty Walsh, city workers and Massachusetts state Governor Charlie Baker, as well as state workers to you, declaring your wisdom and justice in their allocation of resources. Give them perseverance to continue to do well in managing this crisis in our city.
5. Households: Jehovah Jireh (God our Provider), we lift our households in Boston to you, including families that are spending more time than usual together, experiencing stress of disrupted schedules, financial crisis, & inability to celebrate special occasions as usual. We also lift up those who live alone, dealing with loneliness, isolation and need to sense your presence. We pray for those who may be quarantined in a home where there is someone neglectful or abusive. Send your angels of protection over them and bring justice where there is wrongdoing.
6. The economy/ financial institutions: Jehovah Nissi (God of Victory), we pray you would help people who work in Boston banks, credit unions and the Federal Reserve to have ethical practices, decision making and good judgement, especially because so many businesses are applying for loans. We also lift those who work in the Boston Department of Unemployment as so many people are applying for unemployment benefits. They are fielding unusually large amounts of applications. May our economy weather this storm in your strength! We lift up East Boston, Revere and Winthrop where there is an overwhelming amount of community need for food.
7. Funeral homes & clergy: Jehovah Kadesh (God who sanctifies or makes holy) we lift every Boston pastor, priest, minister, rabbi, nun, Imam and lay leader to you, asking for your anointing and supernatural ability to handle unprecedented demands during this crisis. Many Boston congregations are meeting remotely, requiring leaders to learn how to use technology they may be unfamiliar with and that is not always effective. We also lift the funeral directors and their staff at the many Boston funeral homes that are, along with clergy, facilitating many more funerals and memorial services than usual. We remember cemetery staff who are also busier than usual. Give them strength and enable them to carry out fair business practices.
8. High Risk Populations: Jehovah Elohim (God who is strong and mighty) we remember those who are most vulnerable among us, including elderly people, those experiencing homelessness, prisoners, people with disabilities, those living in institutions like group homes and halfway houses, shelters, nursing homes, rehabilitation centers, state hospitals, and assisted living facilities. We speak your supernatural protection over people with compromised immune systems and people in recovery from substance use disorder in our city. Strengthen them with your might, our most vulnerable citizens.
9. Military: Jehovah Nissi (God of victory on the battlefield), we thank you for and lift all Boston enlisted, other military personnel and civilians working on Boston military bases. They are handling the stress of cancelled leave, may be suffering from symptoms of PTSD and living in close quarters. We speak salvation over those who may not know you & your grace over military marriages under strain. Provide effective treatment for those with mental health issues, and shelter, food and clothing for Homeless Vets. Military chaplains may be fielding questions that are hard to answer from those they have spiritual responsibility for.
10. Educational institutions: God our Judge, we recognize you alone hold the scales of justice for our 35 colleges in the city of Boston, the large and oldest in the country public education system and the many private schools we have. We lift up all the home schoolers who live in Boston. We lift up the students experiencing remote learning, some for the first time. Help them handle stress of their disrupted schedules, social lives, cancelled events at the end of the year, graduations that must be conducted remotely and anxiety about summer programs. We pray for teachers and instructors that are having to learn how to use technology at levels they have never been required to before. May our educators not fail in educating our students during this crisis, with your help. Be with the students under these difficult circumstances and help them to do their best in learning and completing assignments. Anoint their creativity in handling hardship this pandemic is bringing to their education.
---
There are many other great resources for prayer, including a "May This Plague Pass Over: A Prayer for the Commonwealth from the Massachusetts Council of Churches and "Prayer for a Pandemic" poem below by Cameron Bellum.
---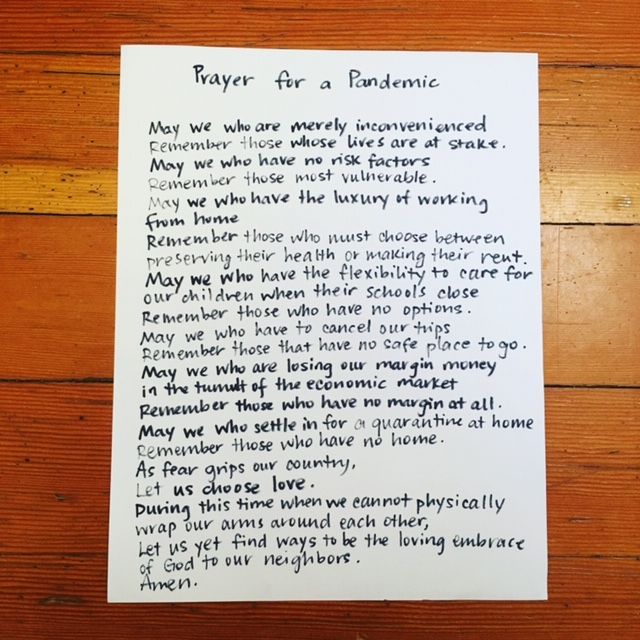 Prayers & Prophecies from UniteBoston's Prophetic Council
We also wanted to share these prayers and prophecies from UniteBoston's Prophetic Council from May 23, 2020. For more information about the prophetic council, contact Alanah Percy, alanah.percy@gmail.com.
Prophecy For The City:
The Lord is shaking Boston and the tremors can be heard throughout the earth. Revival is coming to Boston and the weapon of the revival is prayer. Radical obedience to God will be the new normal in this season. Unusual works of the Holy Spirit will come upon the city. The Lord is calling for unity in the body of Christ in Boston and churches will find ways to connect and a decentralization of power will be the norm in this new season. Jesus is on the throne.
Prophecy for Individuals and Families:
God is releasing grace over families during this season. He is breaking personal strongholds and reinforcing us with his love. Pray Ephesians 3:20 over yourself and your families.