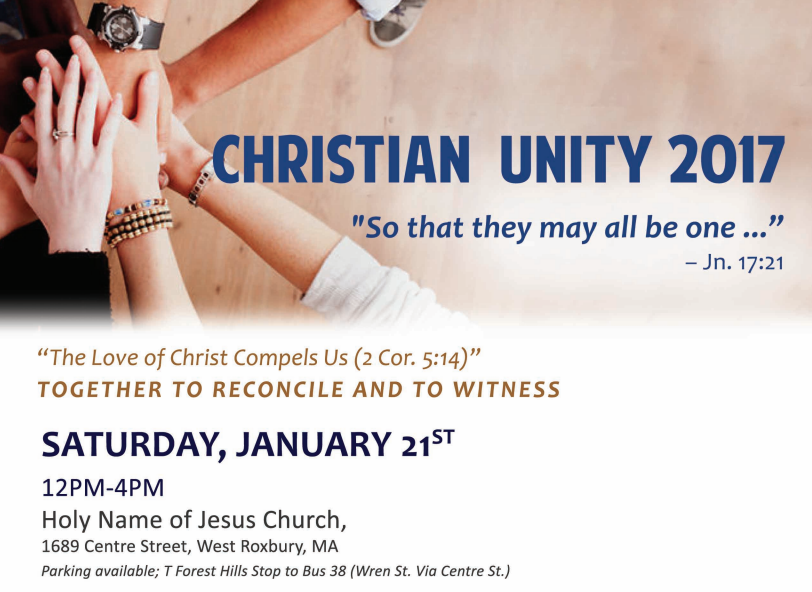 The Week of Prayer for Christian Unity has existed for a century and is present worldwide. This year's theme is: "The Love of Christ Compels Us" (2 Cor. 5:14-20) – To Reconcile and To Witness."
We are hoping that God will grant the most inclusive, full-spectrum Week of Prayer for Christian Unity ever in this area, for the sake of Jesus' own prayer: "Father, that they may be one… so that the world may believe." (Jn 17:21).
This Jan 21 event is the anchor event for the Week. The afternoon will include joint worship, workshops, lunch, and a missions fair. This is the first event in at least 27 years in which Catholics, Orthodox, Mainline Protestant, and Evangelicals are represented this strongly.
Partnering ministries include: Black Ministerial Alliance; Community of Sant'Egidio; Congregación León de Judá; Coptic Orthodox Diocese of New England; E-Net New England; Emmanuel Gospel Center; Focolare; Glory of God in New England/Glory of God on Cape Cod; Grace Chapel; Greek Orthodox Metropolis of Boston; Institute for Christian Unity; InterVarsity New England; Lord's Day Alliance; Massachusetts Council of Churches, Massachusetts Family Institute; Park Street Church; Roman Catholic Archdiocese of Boston; The Paulist Center; and UniteBoston.
A schedule for the week-long prayer gatherings can be found here: www.uniteboston.com/wpcu
RSVP on FaceBook and invite your friends! Also, you can click here to download the flyer