Events Search and Views Navigation
December 2021
Black Nativity, a cherished fifty-one year tradition in Boston, is again offered as a Christmas gift from the city's black community to all people of "good will." Produced by the National Center of Afro-American Artists (NCAAA) since 1970, its cast of more than seventy-five children and adults never fails to lift our hearts and spirits as beautiful voices rise in praise and joy. Tens of thousands have seen Black Nativity and have come to love its energetic, gospel music and its dramatic dance. Boston's Black Nativity,…
Find out more »
This December 2021 New Life Fine Arts Musical Theater presents an original musical adaptation "Ebenezer Scrooge: A Christmas Carol" at the Groton Dunstable Performing Arts Center, 344 Main St. Groton, MA. (Use 343 Main St for GPS directions) Eight Performances: December 10-19 Evenings at 7:30 p.m. Dec. 10, 11, 17, 18 Matinees at 2:30 p.m. Dec. 11, 12, 18, 19 Tickets will be available soon so stay tuned for online ordering, more details and special pricing offers. New Life Fine…
Find out more »
January 2022
Pre K and Kindergarten Winter Open House 10 AM -11:30AM Chapel, Informational Discussion, Tour Bring the kids and learn the ways our children are growing in godly wisdom and love.
Find out more »
February 2022
The Boston Education Collaborative at Emmanuel Gospel Center is recruiting another round of volunteers to help schools and afterschool programs this school year. If people thought last school year was challenging, this school year has been even more difficult for schools and programs. A recurring theme is the fatigue of staff and parents and the loss/regression of social emotional skills of students. What if the Church steps into this need and opportunity to bring Christ's love and comfort to these…
Find out more »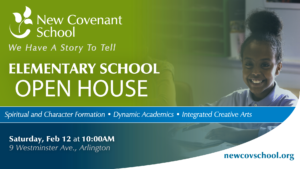 Join us to learn more about our spiritual formation, dynamic academics, and creative arts, which distinguish our vibrant elementary and preschool programs. Learn about our mission to equip students to follow Jesus and serve His kingdom by grounding them in godly wisdom and love, and training them to excel in a life of learning, leadership, and service.
Find out more »
March 2022
Great Music, Poetry, Dance. Inspiring Stories. All FREE. Zooming to You! If you love the arts (global music, poetry, dance, artwork, etc.), inspiring stories of what people just like you are doing to make a difference around the world, and gathering with global family members that share your passion, you HAVE to come to our Concert for Global Empowerment! The Concert is an opportunity for you to enjoy the arts while exploring becoming part of PEER Servants global volunteer community.…
Find out more »
April 2022
Information, Admissions, and Enrollment intentional spiritual formation rich and dynamic academics vibrant creative arts and music small classes and enrichment Join us to learn more about how your student will grow in godly wisdom and love  at NCS New Covenant School  Admissions
Find out more »
May 2022
We're taking our worship experience on the road and coming to your city on our Elevation Nights Arena Tour. Special discount code for the UB Community - Limited Tickets available! Use the unlock code EFAM20 to get your tickets 20% off! 1. Go to the Ticketmaster Website 2. Search for Elevation Worship 3. Choose the one for Boston MA on May 5th 4. Select the Number of Tickets. Then Hit the Unlock Button 5. Enter EFAM20 to get your 20% off tickets
Find out more »
Grace Preparatory Academy (GPA), located in Needham, MA, is a University Model® School serving students in grades K-8. We are a distinctively Christian school community and seek Christian applicants. On Mondays and Wednesdays, students gather on campus to learn in traditional, mixed-age classrooms. On Tuesdays, Thursdays, and Fridays, students are taught at home by their parents, according to lesson plans created by the classroom teachers. GPA is actively seeking qualified teachers for the upcoming 2022-2023 school year.   Positions are available…
Find out more »
The Way of Hope Church is hosting a Summer Camp Program for children 6 - 12 yrs: Time 8AM - 2PM. Our location is 1458 Hancock Street, Quincy MA 02169. The cost will be $50 per wk. Snacks will be provided. Children need to bring lunch. A snack will be provided. Limited to 20 Children Arts' Crafts. Bible Stories, Trips. COVID 19 Guideline is held. For more information send a text to 857-271-6590. Camps Start after July to the second…
Find out more »
We are offering a Free Zoom or phone consultation now through Memorial Day weekend (Tuesday and Thursdays 10-3pm, 30 minute slots) with a recognized special needs planning professional Caleb Harty, CFP®. Caleb attends Grace Chapel, speaks annually for Joni and Friends New England, and many other Arcs, SEPACs and other groups. He also has previously written for Forbes, Kiplinger, and other publications on special needs strategies. Caleb attended Gordon College with a degree in economics and holds the prestigious CERTIFIED…
Find out more »
August 2022
Guitar Lessons in Mansfield/Foxboro Area Hello! I have been performing on worship teams at churches for more than 25 years. I am a member of Victory Church in Sharon, MA where I perform with the worship team every week and in special music performances. I'm offering guitar lessons in acoustic guitar and electric guitar: -Coaching every step of the way -Start playing immediately -Easy learning, fast results -Fun for all ages Click here to schedule a free intro lesson or…
Find out more »
October 2022
+ Export Events