"Once this health crisis passes, our worst response would be to plunge even more deeply into feverish consumerism and new forms of egotistic self-preservation. If only we might rediscover once for all that we need one another. God willing, after all this, we will think no longer in terms of 'them' and 'those,' but only 'us.'"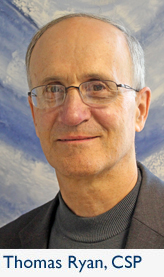 This week's blog is written by Father Tom Ryan, director of the Paulist Office for Ecumenical and Interfaith Relations in downtown Boston. Father Tom shares about a recent encyclical that Pope Francis released entitled "Fratelli Tutti" which means "Brothers and Sisters, All." Father Tom expands on the core of this timely message by describing how organizations in the Boston area are living out God's call to be connected with and care for our neighbors. 
---
Fratelli Tutti (Brothers and Sisters, All) is the encyclical that Argentine Pope Francis released on October 4th, the feast of St. Francis of Assisi, after signing it in the previous day in the Italian town where the Franciscan saint lived most of his life.
An encyclical is the highest ranking document of authority that a pope can write on his own. Fratelli Tutti builds on his previous encyclical in 2015, Laudato Si', which focused on the environment and on the care of creation, and which taught us that everything is connected. It indicates an inherent relationship that extends not only to human beings, but also to the earth.
Fratelli Tutti teaches us that everyone is connected. Its focus is biblical. Pope Francis asks us to look at ourselves and ask: Who is my neighbor?
We need to acknowledge that we are inclined to ignore others. The Pope is challenging us to overcome the individualism in our culture and to serve our neighbors in love, seeing Jesus Christ in every person, and seeking a society of justice and mercy, compassion and mutual concern.
In analyzing conditions in the world today, the Holy Father provides us with a powerful and urgent vision for the moral renewal of political and economic institutions from the local level to the global level, calling us to build a common future that truly serves the good of the human person and of "all of us together."
We already have some undertakings and networks in the Boston area that show us what this looks like in the concrete and practical. Cooperative Metropolitan Ministries (CMM) is the greater Boston area's oldest interfaith social justice network. It was founded in 1966 by faith communities to address poverty, housing, and racial justice in Boston and to link urban and suburban congregations in just, transformative partnerships.
CMM has tackled the most pressing issues facing our communities, working to build Dr. Martin Luther King's vision of a Beloved Community for all citizens. CMM's members and partners include nearly 100 congregations, nonprofit agencies, and educational institutions in Boston and 16 surrounding cities and towns. CMM's approach to social action and cross cultural/interfaith partnerships affirms the necessity of collaboration, as well as the dignity and value of all persons in our common quest for justice and peace.
Yet another example of what "all of us together" looks like is St. Francis House in the heart of downtown Boston on Boylston St, which offers basic care and services that make the difference between hope and despair, and for some the difference between life and death.
Many guests come to St. Francis House initially because they need a hot, nourishing meal. They serve breakfast and lunch 365 days a year. Meals are free, no questions asked. St. Francis House is also the largest distributor of clothing to the poor and homeless in Boston, and provides nearly 10,000 showers a year to its guests, along with toiletries, including shaving cream, razors, toothbrushes and toothpaste.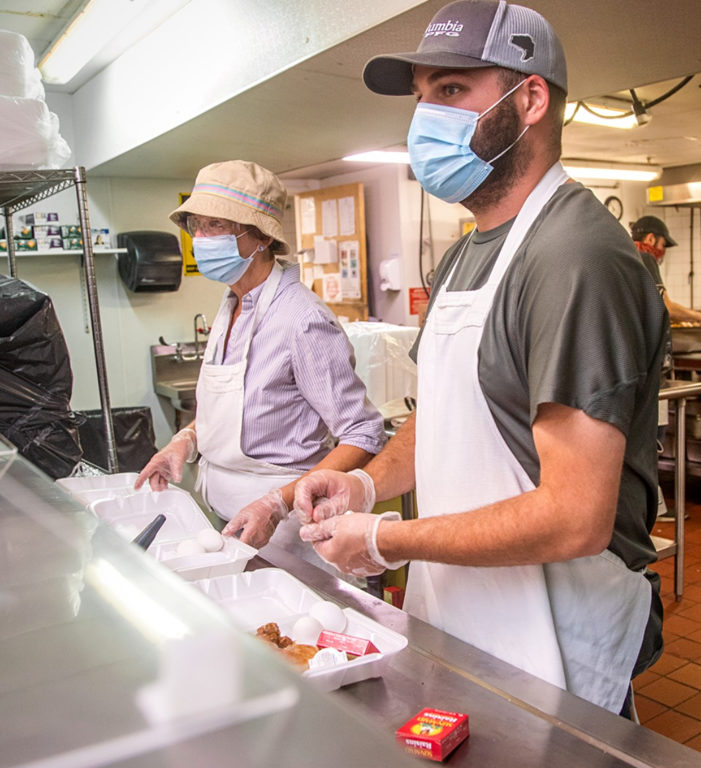 And in its Atrium and Resource Center, a safe, comfortable alternative to spending the day on the street is provided. Here, guests can escape the elements, enjoy the company of friends, and watch the local news or a movie. The Resource Center also features a library, telephones, and computers with Internet access, vital tools for keeping in touch with loved ones and job-hunting.
On yet another front, the Park Street Church and UniteBoston have joined together in a Love Thy Neighbor Grocery Delivery program in which Christians throughout the Greater Boston area can assist families with basic food needs. This program is focused on families and households who have someone that tested positive for COVID-19, by providing them with groceries. Their goal is 100 per week, and as of January, 126 volunteers from 31 churches have been able to provide 14,438 meals to families! In fact, 14% of families requesting groceries through the State of Massachusetts have been served by this program! And just down the street at the Paulist Center, there is a weekly Wednesday eve supper offered for the homeless and the hungry. You would be welcome to participate in one of these ministries.
In another project, UniteBoston recognized the need to address the sin of racism and the pervasive inequities that persist in our city and nation. Justice is not peripheral, but intrinsic to the gospel, and Christians should be leading the way in the movement towards racial justice today. In it's Be the Bridge for Boston program, UniteBoston is actively working against racism and towards reconciliation, equity, and justice in our day-to-day lives.
In short, says Pope Francis, the Church "in the power of the risen Lord, wants to give birth to a new world, where all of us are brothers and sisters, where there is room for all those whom our societies discard, where justice and peace are resplendent." The encyclical overturns the perspective of "we and they." The perspective is "all of us together," and the Church has a public role in working for universal fraternity and sorority.
Pope Francis sets out his vision for a post-COVID world. The pandemic offers us a unique opportunity for conversion. If anything, we have seen how interdependent we are on every level, political, social and economic. We have no choice but to truly live as brothers and sisters, with humanity as well as with our ravaged planet Earth.
From the outset the encyclical makes clear how Francis of Assisi extended fraternity not only to human beings – and in particular to the abandoned, the sick, the discarded, the least, going beyond the distances of origin, nationality, color or religion – but also to the sun, the sea and the wind. The perspective is therefore global, universal.
The perspective is "all of us together." Solidarity is the core, and he seeks to universalize it. "Once this health crisis passes," Pope Francis writes, "our worst response would be to plunge even more deeply into feverish consumerism and new forms of egotistic self-preservation. If only we might rediscover once for all that we need one another. God willing, after all this, we will think no longer in terms of 'them' and 'those,' but only 'us.' "
The Encyclical lends itself well to study groups reading it, praying with it, reflecting on it, and discussing it together. Click here to read it.