This week's blog is written by Kelly Steinhaus, UniteBoston's team leader. Kelly is currently a Masters of Divinity Student in Global and Community Engagement at Boston University. Gospel movement in Boston is just one small part of God's work throughout the world – In this blog, she describes global trends that she is seeing in the world missions movement.
---
Declare God's glory among the nations, his marvelous deeds among all peoples. (1 Chronicles 16:24)
While North America and Europe are seeing a decline in Christianity and church attendance, this trend is not reflected worldwide; rather, the center of Christianity has shifted to the Global South (1). Thus, to understand what is happening in the World Missions Movement, why not go to Africa and see it firsthand?
I had the privilege of attending the Global Ecumenical Theological Institute this past March, which was a short-term study exposure program with 110 students from 40 countries. My study group had young adults from Finland, Myanmar, India, Brazil, and Tanzania, and facilitators from Norway and Kenya. Our GETI program was paired with the World Council of Churches' World Missions Conference. It was a globalized conference for a globalized Church in a globalized world: liturgy was read in multiple languages, the plenary presentations had headsets available for translation, and multiple times per day, we recited the Lord's prayer in our own languages together at the same time, a cacophony of united prayer. The conference brought together many world Christian leaders, and I had the honor of sharing meals with prominent leaders such as Rev. Casely Essamuah from the Global Christian Forum, Dr. Rosalee Velloso Ewell from the World Evangelical Alliance, Father Ioan Sauca from the Ecumenical Institute in Bossey, and Professor John Mbiti, the man recognized as the founder of African theology.
One of the biggest influences within the conference was contextual theology. The 21st century has seen an increase in theological reflection coming from personal experience, which is based on the incarnational notion of God becoming enfleshed into humanity, with our varied cultures, backgrounds, and circumstances. I was amazed to the extent to which our unique context played a role in how each of us spoke of applying a particular scripture passage or theological concept. One of my favorite sessions was when our young adult program held a "living library," where fifteen of us were given the opportunity to become "books," and other people came to listen to our stories of faith and ask us questions. I was asked to be one of these living books, and I shared my faith journey based on the title of: "Liberals and Conservatives: Is Unity Possible?" Truly, our lives are the living letters that the Holy Spirit is writing to bring forth the gospel in our world today (2 Cor 3:3).
Another key theme was "ministry on the margins." While in the past, some Christian groups have tended to approach mission in a dominating way that has erased local cultures, the current understanding of mission is that of empowering those on the margins. Jesus himself promoted the idea of God's mission beginning from the lowly places and from the people to whom the world often forgets. As Christians, we evangelize but we are also the evangelized: We have to hold in tension the sharing of the good news of Christ with the willingness to be changed ourselves by seeing the face of God in those around us. One of the quotes that was mentioned frequently by the African people was, "White people came to share the gospel, and we closed our eyes to pray. When we opened our eyes, our land was gone." Lord, have mercy.
During the last evening, each continent was given the opportunity to offer a cultural presentation: a song or dance to represent their country. The young adults from the United States met to consider what we would say or do. I proposed that the main thing we needed to say to the world was "I'm sorry." I devised a short confessional statement about the ways in which we as Americans have promoted a gospel of arrogance rather than humility, the ways that we have rejected the gifts of people from other nations, and how we have been more concerned about our own well-being and protection, rather than God's call to love our neighbor and to care for our common home.
After this program, what will change for me, now that I'm back in America? There is something about meeting people from around the world that leaves deep impressions in your heart: you realize your small part within the great big world of God redeeming and restoring all creation. I am filled with great humility and the relational bonds also necessitate that I care about others around the world, rather than turning a blind eye to global injustices. It's now harder for me to dismiss global warming, because at the forefront of my mind is a pastor in the Pacific Islands who is seeing the sea levels rise and flooding his church's land. It's harder for me to refuse caring for our earth, because now I think of my new friend from Myanmar and how her people depend on wood every day for cooking, building, and fuel. It's harder for me to have a "neutral" stance on women leading in ministry after seeing the ways in which women are marginalized and shunned from leadership positions in other countries. We can refuse to act when we live out of distance from our neighbor, but when our lives become proximate, and our stories intertwine, everything changes.
I gleaned much from the African way of sharing all for the common good (Acts 2:42). We had the opportunity to attend a Sunday worship gathering at a local church at the base of Mount Kilimanjaro (which I had actually climbed five years ago!)  During the offertory, the members of the church brought their gifts: not only money, but also the latest crops and even a chicken! These were then sold at the end of the service to anyone in need. There was a collective sense that "All that I have is not mine; it is God's, and we need to take care of one another." I had read about the African ubuntu notion that "I am what I am because of all that you are" in class, but that Sunday, it came to life. My capitalistic, self-oriented mindset in America needs to be refreshed by the open-handed approach to wealth and resources that many people in Africa embody.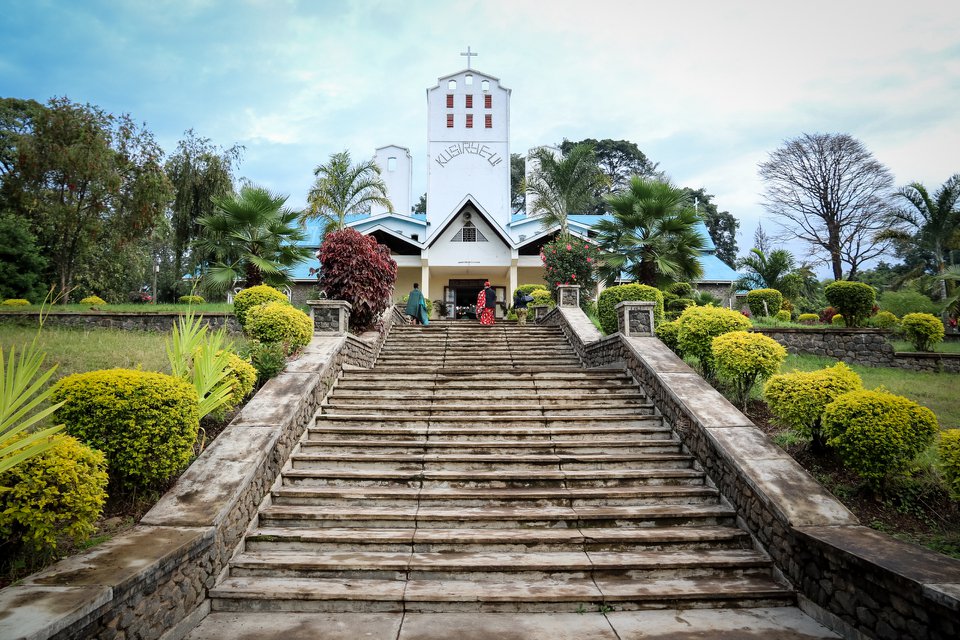 What I'm realizing is that Jesus lived out his kingship by inaugurating kinship. Through his humble obedience to God, he opens an invitation for all to live not for themselves but for God and others. Those with greater resources have responsibility to those in need; in our loving of one another, Christ's gospel becomes visible (Jn 13:35).
While the theme of the conference was "transforming discipleship," at times, I felt that the conference focused on communal liberation of social structures while neglecting what I understand to be the core of the gospel: a life-giving relationship with God through Jesus the Christ. There is nothing like knowing God personally and intimately – We are called to be God's image bearers and be transformed into his likeness (2 Cor 3:18). In our attempts to contextualize the gospel and become all things to all people (1 Cor 19:22), we cannot lose the core message: the good news of God reconciling all to God's self through the life, death, and resurrection of Jesus Christ. Christ's gospel is holistic: it brings liberation and salvation in the fullest sense, yet it starts with each one of us and our commitment to follow Jesus.
God works from the inside-out, and Jesus modeled a life of deep communion with God the Father that resulted in the transformation of everyone He met. He modeled loving and serving the world's most vulnerable. I believe that as we humbly give ourselves to one another in the likeness of Christ, we will bring ubuntu to life, and the glory of God will be seen in all nations.
References:
(1) – Granberg-Michaelson, Wes. "Think Christianity Is Dying? No, Christianity Is Shifting Dramatically." The Washington Post. May 20, 2015. Accessed April 02, 2018. https://www.washingtonpost.com/news/acts-of-faith/wp/2015/05/20/think-christianity-is-dying-no-christianity-is-shifting-dramatically/.