The Lord's Day Alliance's latest e-Sunday magazine has the theme of "Sabbath, Sunday and Worship in transition," where they are featuring various stories and reflections throughout the country, including UniteBoston! Check out the article below, that was written by UniteBoston's Team Leader Kelly Fassett. You can also click here to read the entire eSunday Magazine.
Save the Date! UniteBoston is planning on having another summer worship gathering on Saturday August 17th, from 7:00 to 9:00pm at the Parkman Bandstand in the Boston Common.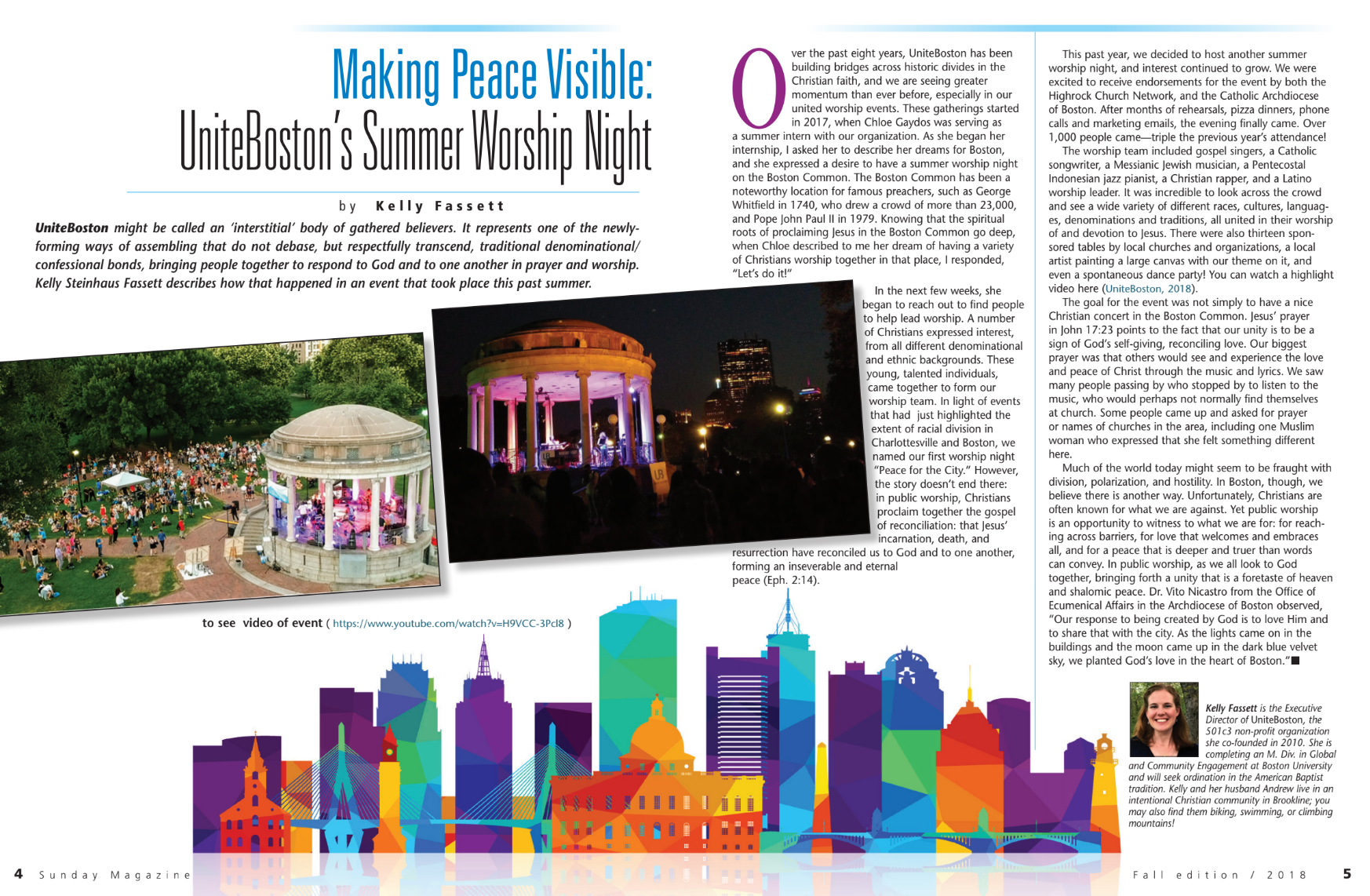 ---
Making Peace Visible: UniteBoston's Summer Worship Night
Over the past eight years, UniteBoston has been building bridges across historic divides in the Christian faith, and we are seeing greater momentum than ever before, especially in our united worship events. These gatherings started in 2017, when Chloe Gaydos was serving as a summer intern with our organization. As she began her internship, I asked her to describe her dreams for Boston, and she expressed a desire to have a summer worship night in the Boston Common. The Boston Common has been a noteworthy location for famous preachers, such as George Whitfield in 1740, who drew a crowd of more than 23,000, and Pope John Paul II in 1979. Knowing that the spiritual roots of proclaiming Jesus in the Boston Common go deep, when Chloe described to me her dream of having a variety of Christians worship together in that place, I responded, "Let's do it!"
In the next few weeks, as she began to reach out to find people to help lead worship, a number of Christians expressed interest, from all different denominational and ethnic backgrounds. These young, talented individuals, came together to form our worship team. We named our first worship night "Peace for the City" in light of the recent events taking place in Charlottesville and in Boston that highlighted the extent of racial division. However, the story doesn't end there: In public worship, together Christians proclaim the gospel of reconciliation: that Jesus' incarnation, death, and resurrection has reconciled us to God and to one another, forming an inseverable and eternal peace (Eph. 2:14).
This past year, we decided to host another summer worship night, and interest continued to grow. We were excited to receive endorsements for the event by the Highrock Church Network and the Catholic Archdiocese of Boston. After months of rehearsals, pizza dinners, phone calls and marketing emails, the evening finally came. It was attended by over 1,000 people, triple the size from the previous year. The worship team included gospel singers, a Catholic songwriter, a Messianic Jewish musician, a Pentecostal Indonesian jazz pianist, a Christian rapper, and a Latino worship leader. It was incredible to look across the crowd and see a wide variety of different races, cultures, languages, denominations and traditions, all united in their worship of and devotion to Jesus. There were also thirteen sponsored tables by local churches and organizations, a local artist painting a large canvas with our theme on it, and even a spontaneous dance party! You can watch a highlight video here.
The goal for the event was not simply to have a nice Christian concert in the Boston Common. Jesus' prayer in John 17:23 points to the fact that our unity is to be a sign of God's self-giving, reconciling love. Our biggest prayer was that others would see and experience the love and peace of Christ through the music and lyrics. We saw many people passing by who stopped by to listen to the music, who would perhaps not normally find themselves at church. Some people came up and asked for prayer or names of churches in the area, including one Muslim woman who expressed that she felt something different here.
While much of the world today might seem to be fraught with division, polarization, and hostility, in Boston, we believe there is another way. Unfortunately, Christians are often known for what we are against. Yet, public worship is an opportunity to witness to what we are for: for reaching across barriers, for love that welcomes and embraces all, and for a peace that is deeper and truer than words can convey. In public worship, as we all look to God together, bringing forth a unity that is a foretaste of heaven and shalomic peace. Dr. Vito Nicastro from the Office of Ecumenical Affairs in the Archdiocese of Boston described, "Our response to being created by God is to love Him and to share that with the city. As the lights came one in the buildings and the moon came up in the dark blue velvet sky, we planted God's love in the heart of Boston."
---
About the Author:
Kelly Fassett is the Executive Director of UniteBoston, a 501c3 non-profit organization that she co-founded in 2010. Kelly has a graduate certificate from Gordon-Conwell Theological Seminary, and a Masters of Divinity in Global and Community Engagement at Boston University with certificates in International Mission and Ecumenism and Religion and Conflict Transformation. She is seeking to be ordained in the American Baptist tradition. Kelly and her husband Andrew live in an intentional Christian community home in the Longwood area, and you can find them frequently biking around the city, swimming in the ocean, and climbing mountains.
The Lord's Day Alliance seeks to encourage all people to receive God's great gift of Sabbath rest and to encourage all Christians to worship the risen Lord Jesus Christ, on the Lord's Day–Sunday–that they may be renewed in spirit and empowered to live lives worthy of the Gospel.