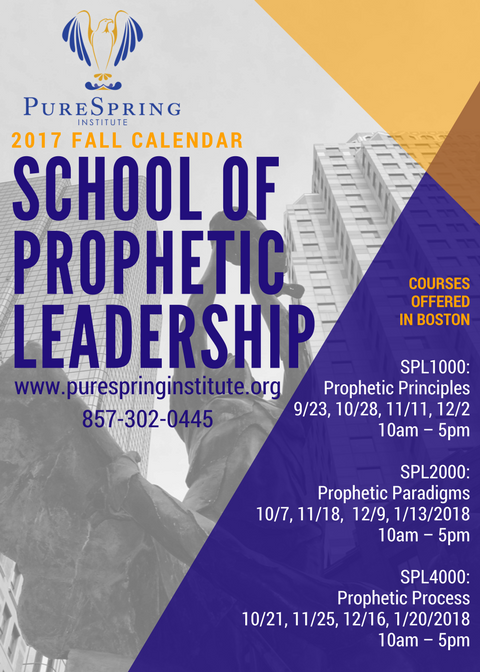 This is a time for the prophets to arise!  Join us at PureSpring Institute starting in September for our exciting and in-depth School of Prophetic Leadership courses filled with activation and exercises to help you gain experience and confidence using prophetic vision and voice. We are also thrilled to present a brand new course this fall, Prophetic Process – SPL4000.
Early Registration (Discounted rates) is from now until September 15th!  Classes begin September 23rd.
COURSES OFFERED THIS FALL
SPL1000 – Prophetic Leadership Principles
Saturdays: 9/23, 10/28, 11/11, 12/2
Enroll in our foundations course for prophetic ministers to activate the gift of prophecy within you and unleash prophetic potential through four core leadership disciplines.
SPL2000 – Prophetic Leadership Paradigms
Saturdays: 10/7, 11/18, 12/9, 1/13/2018
This course shapes prophetic thinking around a theological framework and critical themes that will deepen your seer capacities and fuel your priorities as a prophet.
SPL2000 – Prophetic Leadership Process – NEW
Saturdays: 10/21, 11/25, 12/16, 1/20/2018
Drawing upon the Hebrew prophetic tradition, prophets will explore the art of discernment for decision making and the art of discourse for public delivery of the prophetic message.
School of Prophetic Leadership | PureSpring Institute | 857-302-0445 | info@purespringinstitute.org| www.purespringinstitute.org