2020 Week of Prayer for Christian Unity
January 18, 2020

-

January 25, 2020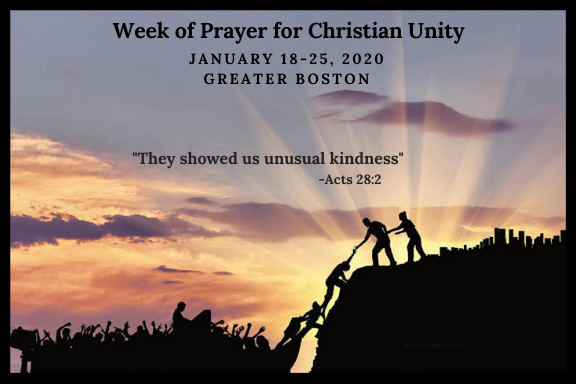 In 2020, the theme is "They Showed Us Unusual Kindness," (Acts 28:2) which was chosen by Christians in Malta. Malta, an island in the Mediterranean Sea, received the Christian faith through the efforts of the Apostle Paul, after he was shipwrecked there while travelling to Rome (Acts 27:18 – 28:10). The local islanders showed Paul and the early disciples unusual kindness and hospitality through building a fire and welcoming them in, despite the rain and cold. This posture of hospitality and welcoming of the stranger is a strong theme throughout the Biblical narrative. In a world where deep differences often keep people divided, it's as we adopt a posture of showing "unusual kindness" to other Christians and people of all backgrounds that we become witnesses of God's love to all people.
Join in!
Mark Your Calendars – You are invited to mark your calendars and plan to attend the evening gatherings! People who attend from night to night will experience the Church in Boston in her diverse array of ethnicities, traditions, and geography. We encourage you to take part in the evening gatherings to learn from the various expressions of Christian worship present within the body of Christ in Boston. We encourage you to attend neighborhood dinners in homes to nurture fellowship and prayer across our churches at the local level with our team of neighborhood dinner coordinators.
Spread the Word – We also appreciate help spreading the word to people in your congregation, family, friends, and neighbors. A personal invitation goes a long way – Here is a link to the Facebook event!
---
Schedule for the 2020 Week of Prayer for Christian Unity
Saturday January 18 at 1 pm – Human To Human: Listen, See & Talk To Refugees about The Refugee Crisis
Meet, listen and learn from local Christians uprooted and displaced by wars to learn how we can pray and partner with refugees and persecuted Christians worldwide.
Host Partners: Ziah Mission Baptist Church & Converge Partnership-Refugees at the forefront of refugee work
Location: International Community Church, 30 Gordon Street, Allston MA 02134
Coordinator:  Torli Krua, Universal Human Rights International
Saturday January 18 at 7pm – "The Upper Room" Experience 
CANCELLED DUE TO INCLEMENT WEATHER
The Upper Room Experience is a worship environment composed of a community that is nourished by the three streams of the Church: Scripture, Spirit, and Sacrament.
Host Partners: Diocese of the Good Shepherd, Hyssop Christian Church
Location: Hyssop Christian Church, 1590 Dorchester Ave, Boston, MA 02122
Coordinator: Rev. William Nunez, Diocese of the Good Shepherd; Co-host: Rev. Henry Monroig, Hyssop Christian Church
Sunday January 19 at 7:30pm – Song & Stillness: Taize at MIT
Song & Stillness, Taizé @ MIT, is a contemplative practice of simple, quiet, evening prayer, with an international message of Christian reconciliation and unity. Using the music of the Taizé community in France, our service includes readings from Christian scripture, candlelight, meditative singing, and time for silence.
Location: 7:30pm at the MIT Chapel, 48 Massachusetts Ave, Cambridge, MA 02139
Coordinator: Susan Butterworth, MIT Episcopal/Lutheran Ministry
Monday January 20 at 7pm – "A Night with the King"
Peoples Baptist Church of Boston, a Christ-centered caring church, was organized as the First African Baptist Church in 1805.  People's Baptist Youth Ministry is overjoyed at the opportunity to continue a rich legacy of faith and prayer as exemplified by Dr Martin Luther King Jr. and the forefathers and mothers of this historic black congregation.
Location: People's Baptist Church, 830 Tremont St, Boston, MA 02118
Coordinator: Minister Myra Kinds, Peoples Baptist Church Youth Ministry
Tuesday January 21 at 7pm – Dorchester Neighborhood Dinner
Cleo and her housemates are delighted to open up their Dorchester home to host a potluck dinner during the Week of Prayer for Christian Unity. The evening will include an opportunity to meet believers from across the city, food, discussion around the theme of "unusual kindness," and of course prayer!
Host: Cleopatra Muhammad – Email cmuhammad85@gmail.com to RSVP
Wednesday January 22 at 7pm  – Prayer with Downtown Congregations
The Prayer Service at the Paulist Center in downtown Boston will have Catholic (Paulist Center) and Episcopalian (St. Paul Episcopal Cathedral) co-presiders and a UCC preacher in a musically-rich circle of prayer for Christian unity, open to people from all traditions of Christian faith.
Host Partners: Paulist Center, The Cathedral of St. Paul
Location: Paulist Center, 5 Park St., Boston, MA 02108
Coordinator: Fr. Tom Ryan, Paulist Center; Cynthia Pape and Anne Moore from the Cathedral of St. Paul
Thursday January 23 at 7pm – Medford Neighborhood Dinner
Join Rebekah and her family in Medford for a potluck dinner to talk, pray and share around this theme of "unusual kindness." Our conversation will be focused on the different ways those of us and/or our churches are involved in the community around us.
Host: Rebekah Kerstetter – Email rkerstetter1@yahoo.com  to RSVP
Friday January 24 at 7pm – Prayer for Innocent Convicts & Law Enforcement Officials
#TheInnocentConvicts.org has teamed up with UniteBoston during the Week of Prayer to pray for victims of wrongful convictions and law enforcement officials for redemption, unity and healing of our communities.
Location: Christ Church International, 202B Washington Street, Dorchester, MA 02121
Coordinating Group: Ossy Osagie from the Innocent Convicts
Saturday January 25 at 5pm – Cambridge/Somerville Neighborhood Dinner
Join Kiki for a potluck dinner, discussion around the theme of "unusual kindness, and a chance to meet other believers from across the city, before walking to the Week of Prayer for Christian Unity concluding gathering at 7pm.
Host: Kiki Densamo and Paul Castiglione – Email info@uniteboston.com to RSVP
Saturday January 25 at 7pm – Closing Prayer Gathering
We will gather for a peaceful and contemplative "Vespers" service of psalms, readings and prayers in the tradition especially familiar to Catholics, Anglicans and Lutherans. As part of the service, we will take a moment to reflect and share about the events of the past week and discern where God is leading us next as an ever-uniting body of Christ.
Location: Faith Lutheran Church, 311 Broadway, Cambridge, MA 02139
Coordinator: Rev. Robin Lutjohann from Faith Lutheran Church
Promotional Materials
These are great to download and use for your promotions! Also, contact Kelly Fassett (kelly@uniteboston.com) if you'd like to pick up some postcards for distribution at your church or community.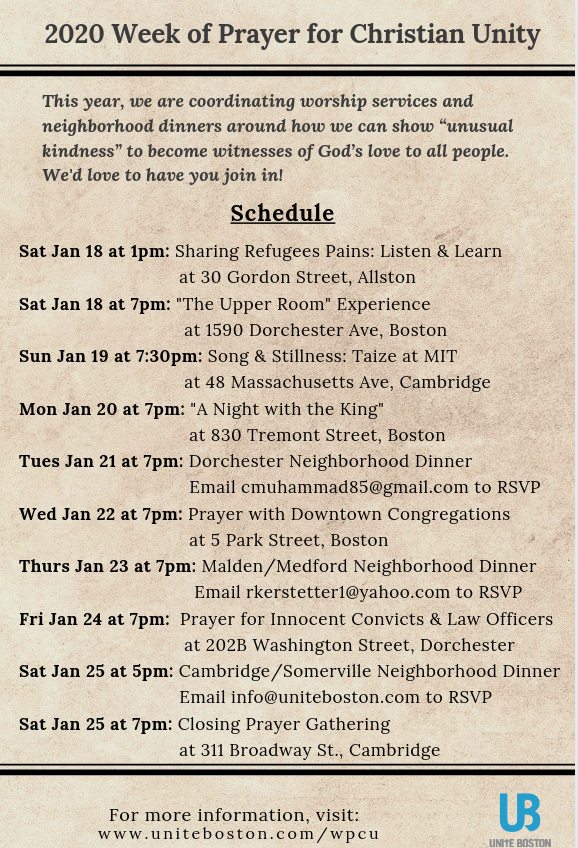 Details
Start:

January 18, 2020

End:

January 25, 2020

Event Categories:

Website:
Organizer
Phone:

928-600-3236

Email:

kelly@uniteboston.com
Related Events
January 26 from 7:00 pm

-

8:00 pm

|

Recurring Event

(See all)

An event every week that begins at 7:00 pm on Wednesday, repeating indefinitely

January 27 from 8:00 pm

-

9:30 pm

|

Recurring Event

(See all)

An event every month that begins at 8:00 pm on day Second of the month, repeating until May 20, 2022

One event on September 23, 2021 at 8:00 pm

One event on October 28, 2021 at 8:00 pm

One event on November 25, 2021 at 8:00 pm

One event on December 23, 2021 at 8:00 pm

One event on January 27, 2022 at 8:00 pm

One event on February 24, 2022 at 8:00 pm

One event on March 24, 2022 at 8:00 pm

One event on April 28, 2022 at 8:00 pm

January 29 from 11:00 am

-

12:00 pm

|

Recurring Event

(See all)

An event every week that begins at 11:00 am on Saturday, repeating until February 26, 2022