"My dream is that Christians throughout the city would lock arm in arm, seeing the Melnea Cass area as a mission field to push back darkness, turning Methodone Mile to Miracle Mile, one soul at a time."

Pastor Sam Acevedo
In these weeks leading up to Boston Flourish on November 10, we're featuring the organizations that will be presenting at the conference. This week, we're featuring Miracle Mile Ministries, a long-standing inter-church initiative that is making an impact in powerful ways. We had the chance to learn more about this ministry from Pastor Sam Acevedo – Read below to hear about the transformation they are seeing take place through their ministry!
---
Tell us a little bit about Miracle Mile Ministries?
Miracle Mile Ministries is a collaborative of churches devoted to a sustained, deliberate, strategic response to the area we call "Miracle Mile," a roughly 2-square-mile area in the South End of Boston often referred to as "Mass & Cass" or "Methadone Mile." It is led by a core group of six Boston-area Lead Churches (Congregación León de Judá, Antioch Community Church Brighton, Cornerstone Church, Restoration City Church, Hilltop Church and Symphony Church) and also involves a dozen or so churches and parachurch ministries from throughout Boston's neighboring communities who faithfully support this effort, week after week.
Wow, that's really awesome to hear. Can you tell us about this ministry began?
This ministry began in 2012 as a weekly sidewalk outreach on Saturday mornings at of Congregación León de Judá , serving coffee and making friends with people in the neighborhood around the church who were enduring homelessness and other needs. In 2014, "the breakfast" moved into Lion of Judah's basement fellowship hall, allowing the church to serve a fuller breakfast, year-round, and conduct an evangelistic service. Over time, volunteers from area churches and ministries would flock to the "breakfast," and today there are dozens of volunteers who contribute to make this ministry happen on a weekly basis.
Over the last 10 years, every Saturday morning – whether amid a snowstorm or on Christmas Day – Miracle Mile Ministries has had the privilege of feeding and clothing anywhere from 60 to 100 guests each week, who come to us from the neighboring streets and surrounding shelters. With the onset of the Covid-19 pandemic, Miracle Mile volunteers have provided 100 sidewalk "to go" breakfasts and clothing each week, as well direct interaction with our neighbors at Rosie's and the tent-dwellers on Atkinson Street's tent encampment. That is nearly 800 guests each year – many of them struggling with the ravishes of substance abuse addiction, working hard on coming clean, getting on their feet, and achieving their destiny.
What is the current state of the situation?
Never has the crisis of homelessness and addiction in Boston been more stark, and never has the need for Miracle Mile Ministries been more ardent. Perhaps the worst expression of Boston's homelessness crisis has been the "Mass & Cass" tent encampment – located only a couple of blocks from the Congregación León de Judá – that at its darkest, according to a City of Boston survey, included 70 to 90 tents sheltering an estimated 143 human beings. Most of the tent dwellers reported widespread drug use (87% use cocaine or crack cocaine, 76% use opiates, 20% methamphetamines (1).
What is the approach you take to serve those struggling with addiction?
First, we seek to meet immediate needs, as Jesus asks his followers to do in Matthew 25: "For I was hungry and you gave me something to eat, I was thirsty and you gave me something to drink, I was a stranger and you invited me in, I needed clothes and you clothed me . . ." (Matthew 25:35-36). Since the pandemic, we set up tables out on the street to serve our guests a hot breakfast and hot coffee or tea. Many times they form a single line that often reached from our door around the corner to the door of our neighbor, Rosie's Place. On that street, we formed a "conveyor belt of love," giving our guests food, as well as clothing.
Then we introduce our guests to the gospel and its transforming power through outdoor piano worship (including in the sleet and rain) and a street corner "Prayer Booth." It has a sign that reads "Prayer here!" and we minister in the open air to our Guests – and in fact, to any passersby.  When we visit the Mass & Cass area, we move from tent to tent with care packages and in and invite those we encountere to receive prayer – including to invite Jesus into their lives.  Many of them have.  And several have made their way to our mid-week Bible Studies specific to those experiencing addiction and homelessness.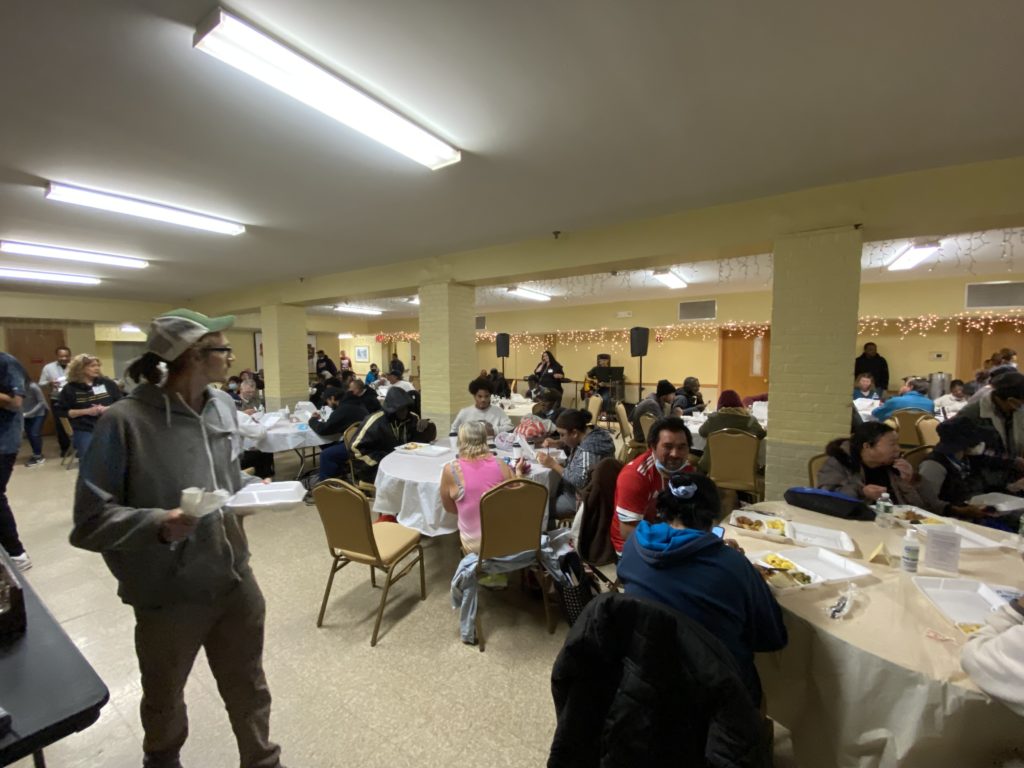 What transformation have you seen take place?
The ultimate goal of Miracle Mile Ministries is to see many of our Guests – even if not all – take their first solid steps toward a life free of despair and the bondage of addiction. As other Miracle Mile volunteers hand out care packages, recovery specialists also arrive armed with resource binders ready to refer anyone who is ready for a change to community services such as detox and rehab facilities, transitional housing, or employment. Between June of 2020 and July of 2021, our Together Initiative workers made 591 follow-up calls to 64 Guests. Our volunteers have also driven Guests to detox and rehab facilities as far away as Worcester. More than half of them have either received their own apartments or are in transitional housing. Roughly two-thirds (62%) have been clean – free of illicit drug or alcohol use – for at least year. Others have successfully completed a residential treatment program.
For many of our Guests, their first steps to transformation also involves church attendance. A recent survey identified at least 36 men and women drawn from the Miracle Mile community who have attended services at Lion of Judah more than once over the last 18 months. An average of 5 to 10 Guests attend either our Tuesday night Bible Study or our weekly Wednesday morning Bible Study (dubbed, "the Freedom Group"). In fact, in 2019, Lion of Judah's last open air baptisms, 10 of our Guests – the limit of our bus – were baptized into the faith. These are many of the ways that our Guests are beginning a new life of freedom.
I'd encourage you to watch Jerome's story below. In the three years since Jerome first came to Miracle Mile, Jerome has moved into his own one-bedroom apartment, he recently celebrated his first Christmas with his family in 45 years, and has become an indispensable member of the Miracle Mile Team. "If I can change in the 60-something years I was doing alcohol and drugs, trust me you can change, too."
What is your dream for your ministry? How can Christians in Boston come alongside your efforts?
My dream is to see the Church rise up as a synchronized unit to confront the forces of darkness now known as Methodone Mile / Mass & Cass. At this point, we need ownership and infrastructure to shift a longstanding voluntary fellowship of churches around Boston's homelessness and opioid crisis, into a formal, functioning multi-church organization. Volunteers are needed for everything from organizing supplies, to running bible studies, to picking up and sorting donated food, to picking up needles and trash, to engaging people on the street and meeting guests, to committed prayer. There are times we have to pick and choose whether we do one thing or another and more hands on deck is absolutely necessary for us to have the impact we want to have. My dream is that Christians throughout the city would lock arm in arm, seeing the this as a mission field to push back darkness, turning Methodone Mile to Miracle Mile, one soul at a time.