Christians around the world have recently celebrated the resurrection of Christ. The Paschal greeting to people in the Coptic or Greek Orthodox Church is: "Christos Anesti!" which means "Christ is risen!" and the response is: "Truly He is Risen!" or "He Has Risen Indeed!"
Did you know that here in Boston, the Catholic Cardinal Sean O'Malley and the Greek Orthodox Metropolitan Methodios often attend parts of each others' Easter Week services to celebrate Easter together? The Orthodox Easter Vigil service begins at 10pm and often lasts until 3am, and Metropolitan Methodios welcomes Cardinal Sean at the proclamation of Christ's resurrection. Cardinal Sean always says what a joy it is to share this with brothers and sisters within the Orthodox Church. This is a testament to the strength of their ecumenical relationship across Christian traditions.
Read below to see Cardinal Sean's reflections from this Easter Celebration, which has been reprinted with permission from from Cardinal Sean's blog.
---
While this weekend we marked Divine Mercy Sunday, it was also the time when the Eastern Churches celebrated Easter this year. So, that evening I had an opportunity to take part in two different Easter Vigils.
First, I went to the Greek Orthodox Cathedral to join in their celebration.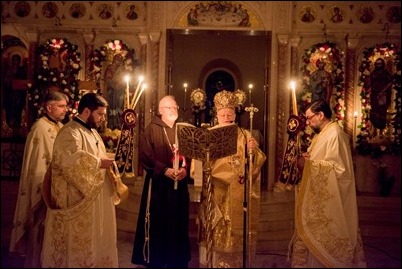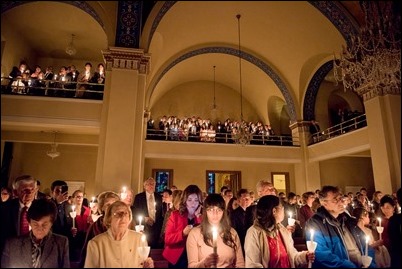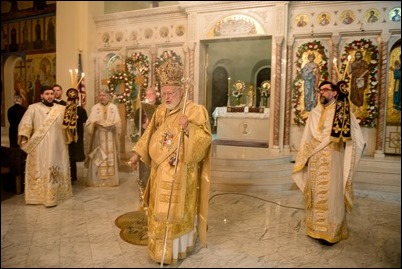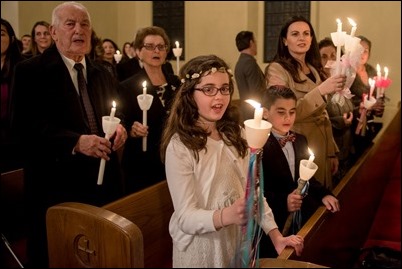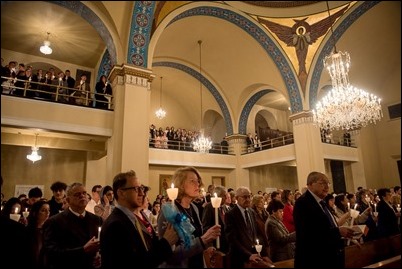 Metropolitan Methodios always very graciously invites me to read a passage from the Gospel and to address the congregation.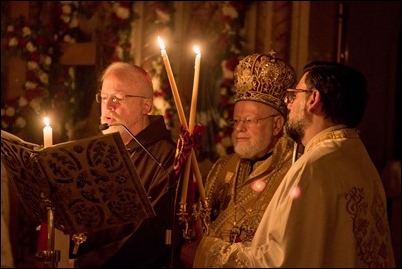 We are so grateful that the Metropolitan comes to our Chrism Mass each year. As he often says in his remarks at the Chrism Mass, it's a great joy to be able to celebrate Easter twice, once with us and once with his own community.
Well, I may have one up on him, because I returned from the Orthodox Vigil in time to greet the Ethiopian and Eritrean Ge'ez Rite Catholic community at the cathedral, who were celebrating their Easter Vigil that night, as well. So, it was my third Easter Vigil of the year.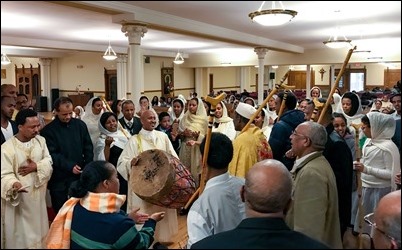 Their liturgy ends with very joyful singing, dancing and playing the drums, and it's always a very lively celebration.
---
Below is Pope Francis' prayer from World Communications Day, May 13, 2018. Communication is central to relationship; Pope Francis reminds us how we can be communicating across our Christian traditions to build greater unity:
Lord, make us instruments of your peace.
Help us to recognize the evil latent in a communication that does not build communion.
Help us to remove the venom from our judgements.
Help us to speak about others as our brothers and sisters.
You are faithful and trustworthy; may our words be seeds of goodness for the world:
Where there is shouting, let us practice listening;
Where there is confusion, let us inspire harmony;
Where there is ambiguity, let us bring clarity;
Where there is exclusion, let us offer solidarity;
Where there is sensationalism, let us use sobriety;
Where there is superficiality, let us raise real questions;
Where there is prejudice, let us awaken trust;
Where there is hostility, let us bring respect;
Where there is falsehood, let us bring truth.